This group of instant adhesives is virtually non-surface sensitive, and will bond in situations where conventional cyanoacrylates fail. The bonding surfaces of acidic substrates (H+), like woods, veneers, rubber, cork, cardboard and leather, are overcome by these High Performance grades of cyanoacrylates. Unlike other instant adhesives available, the RX chemistry allows the user to achieve Instant/High Strength bonds on surfaces contaminated with: Silicone greases, oils & release agents, as well as plated parts, reducing surface preparation costs. RX will also bond routine plastics, nylon, Delrin©, vinyls, naugahyde, woven fabrics and metals.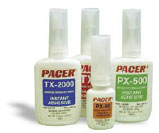 PX Plastics - Extended Performance grades provide maximum strengths for bonding various plastics and elastomerics
together or in combination with metals and other materials. Select PX whenever organic materials are to be bonded. Service temperature range -65°F to 200°F, impact strengths, 4-8 lbs/in2. The PX chemistry provides an intermediate grade between the RX and the HI type product capabilities. Excellent performance on nylon, ABS, PVC, certain fluorocarbons, etc. Will not crack or craze ABS.